Visions of the Earth
Harrisonburg artist illustrates culture, community at local co-op
An old newspaper, a napkin, a scrap of paper—the medium didn't matter to Bahir al Badry in 1980, working as a marine engineer in Iraq. He needed only a canvas and his imagination.
This passion carried over to al Badry's work as a full-time artist once he retired and moved to Harrisonburg five years ago. Now, instead of drawing during his free time on cargo ships, he paints in a loft studio at OASIS Art & Craft, an art co-op downtown.
"All my feelings are inside of my paintings," al Badry said. "I love my work."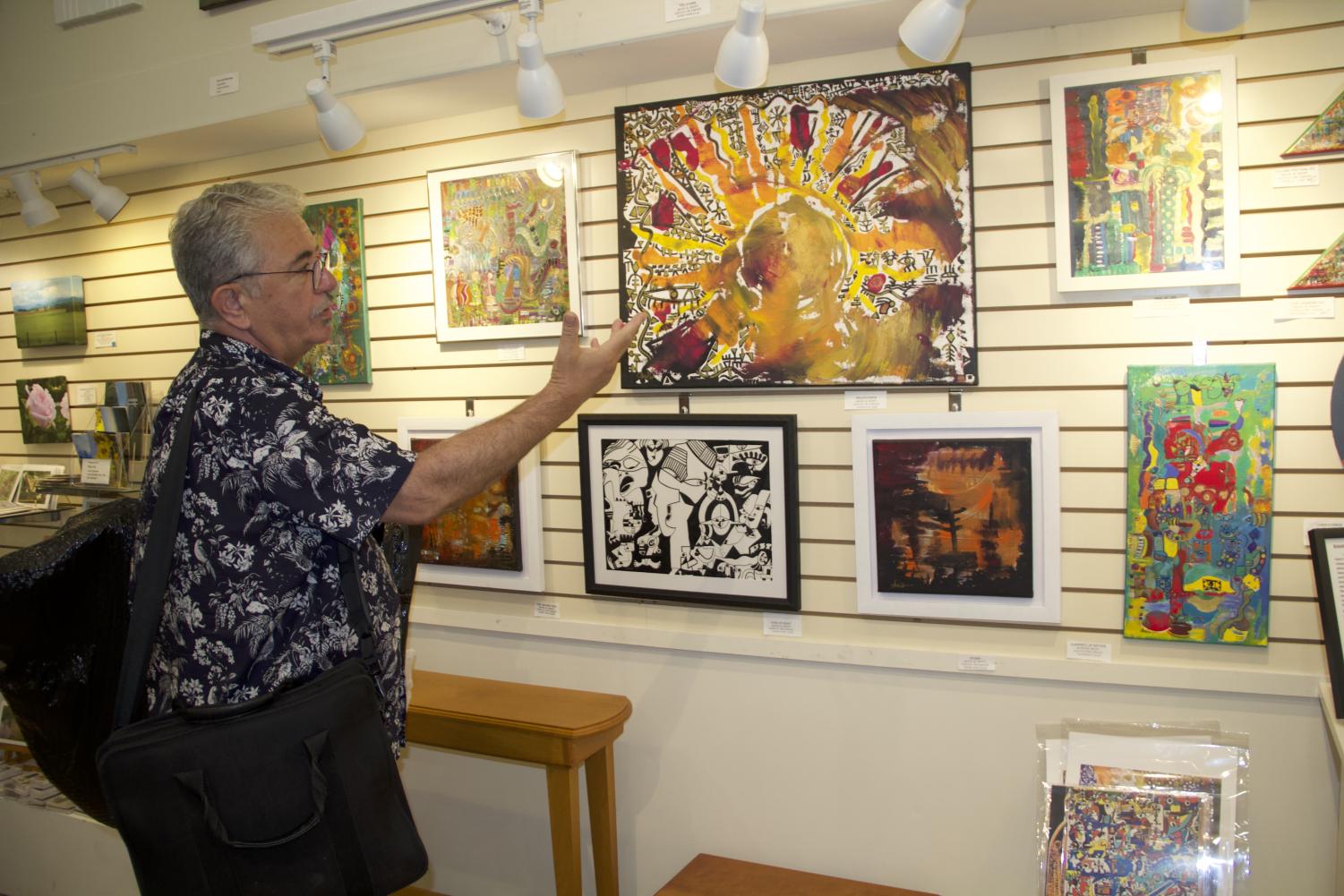 Climate change, ancient culture and the ocean are common subjects in al Badry's art. This painting, "Mesopotamia," represents al Badry's Sumerian culture. Continuing to narrate his work, he points to the edges and describes the "roots" and "languages" swirling around the subject's head.
The work of other artists also hangs in the shop. Creators who want to become members of the OASIS co-op—to help run and produce art for the store—are chosen through jurying. This process ensures a "level of proficiency," said Secretary of the Board Barbara Camph.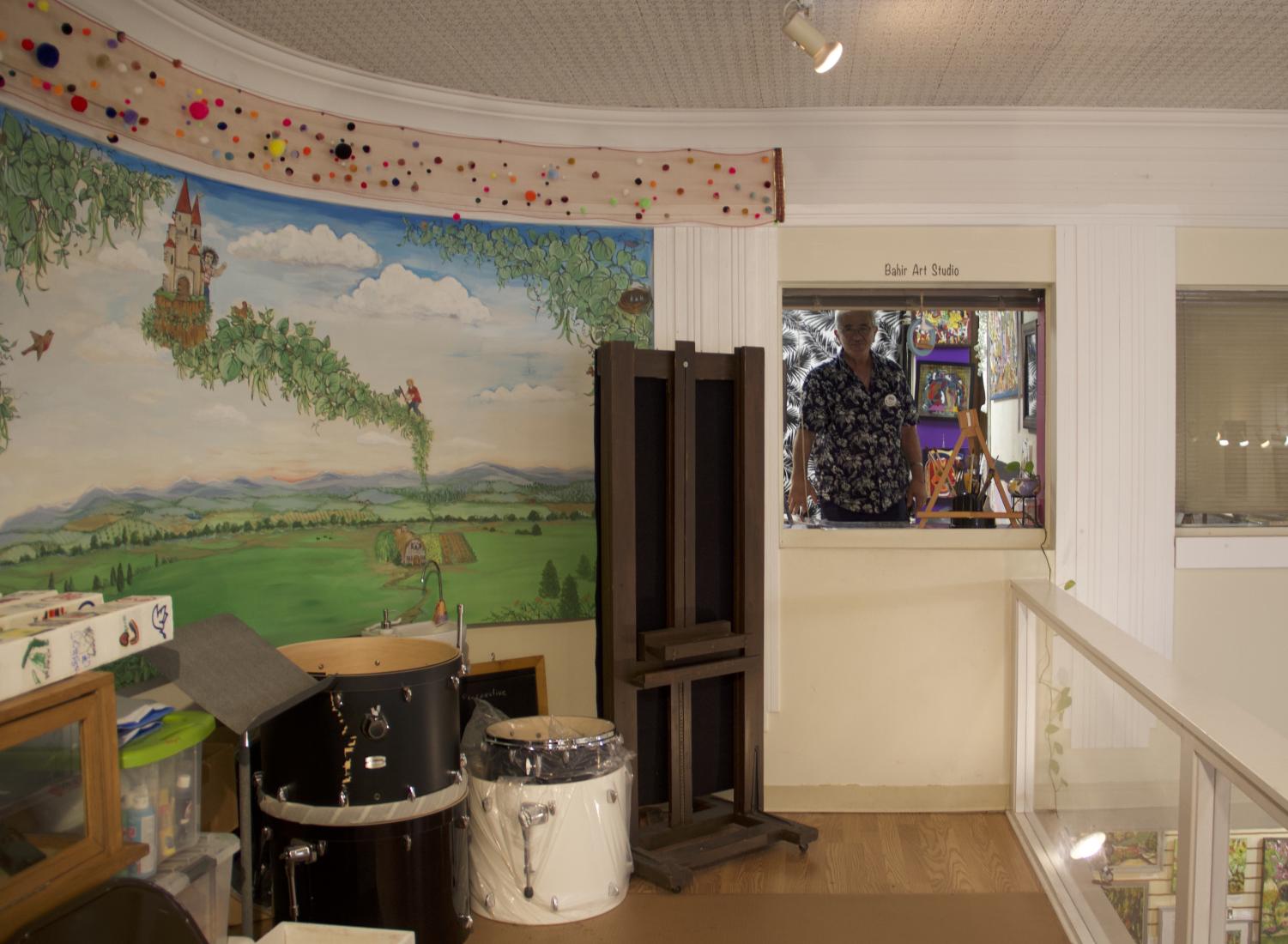 Upstairs, al Badry stands in his loft studio. Each month, the shop highlights an artist on the second floor, now displaying dozens of al Badry's paintings. After the show closes at the end of July, al Badry will remain working as the resident artist at OASIS, as he has for the past three years.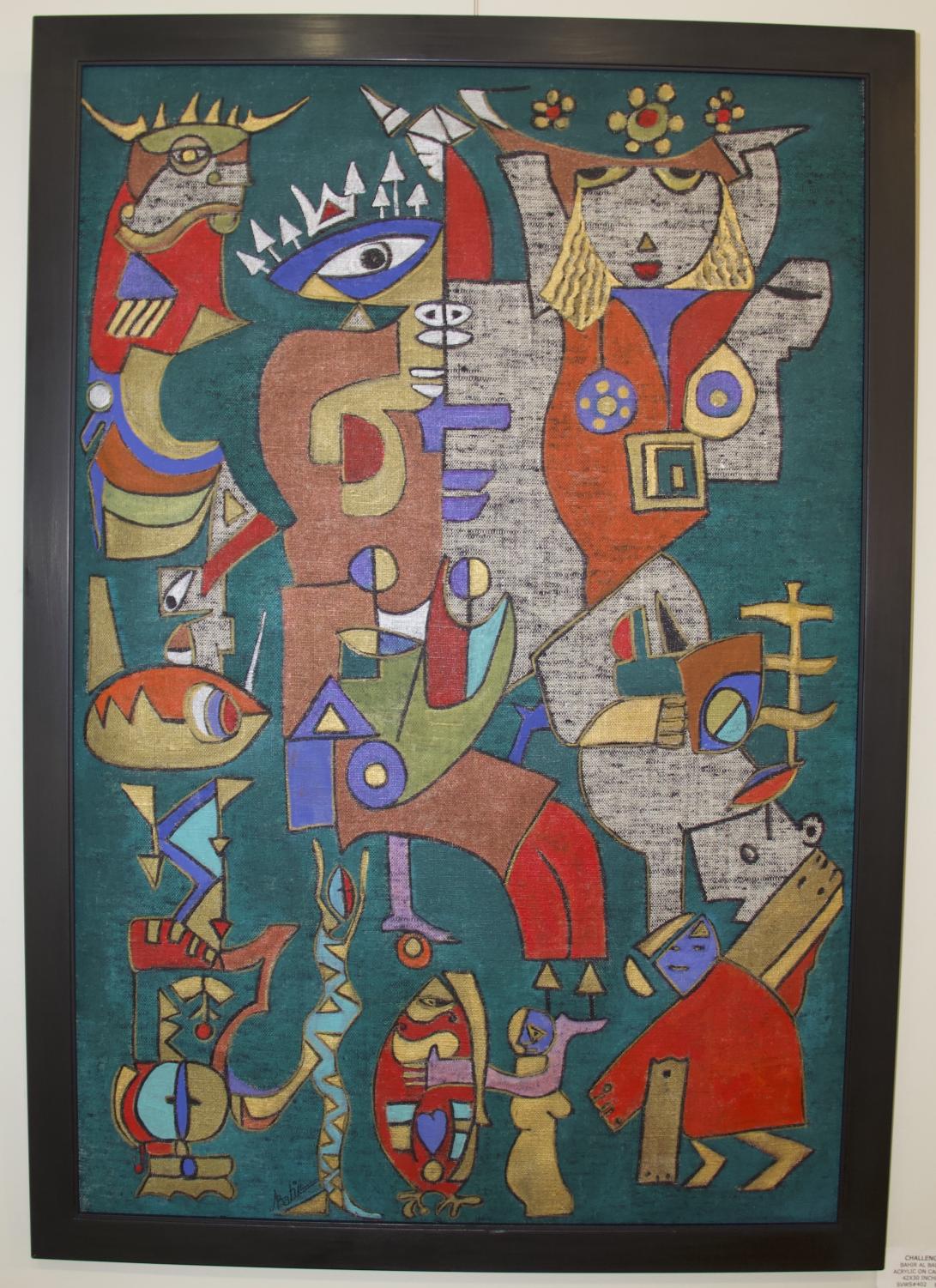 Al Badry's painting "Challenge" hangs at OASIS. Barbara Camph said that the shop aims to be fun and inviting. "I want people to come in and enjoy," Camph said. "A lot of our artists have a sense of humor, so some of the pieces are fun to look at."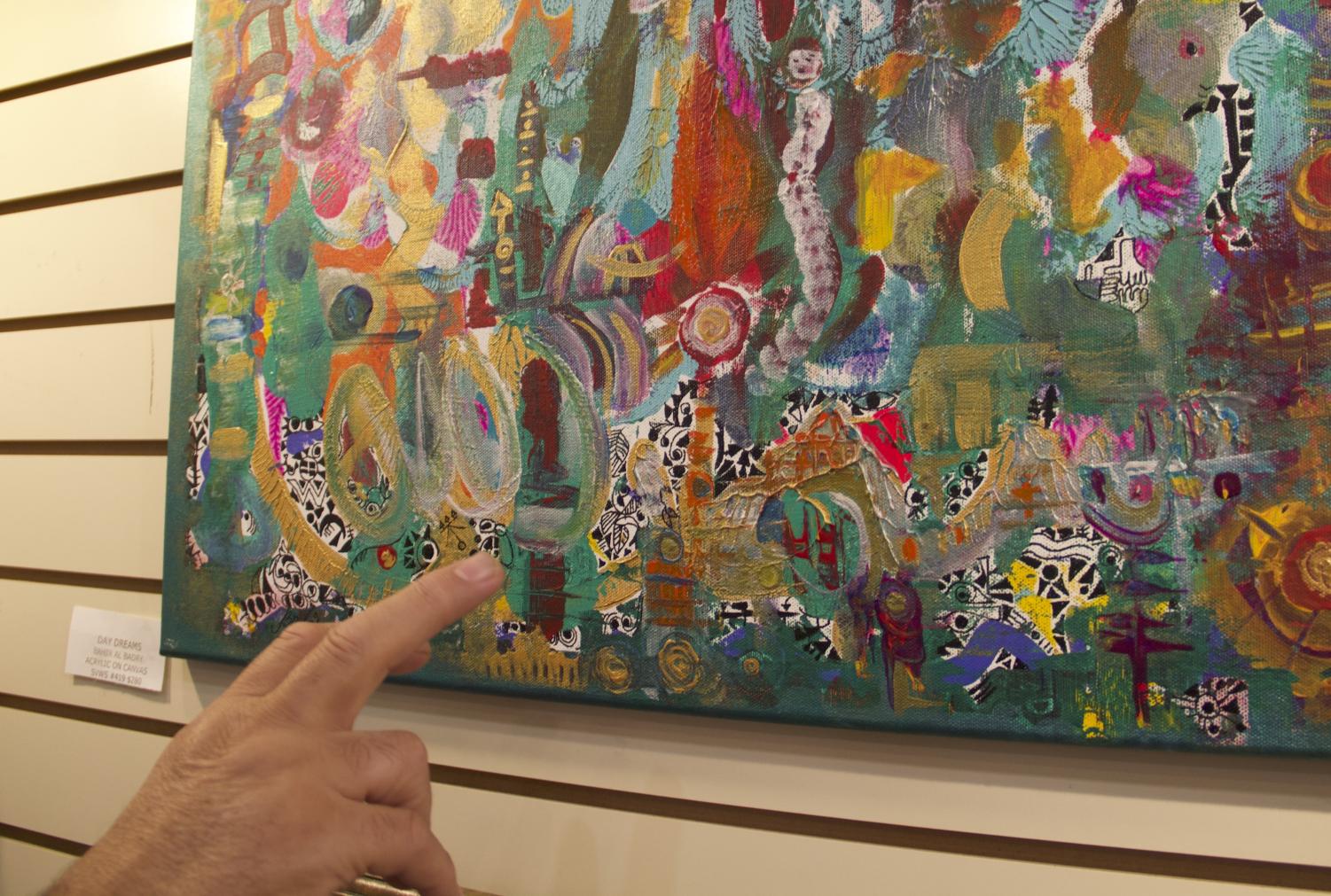 Al Badry gestures to his painting "Day Dreams." Some of al Badry's pieces have a sharper style, and some are more dreamlike, like this one. "We are all dreaming, all of us," al Badry said.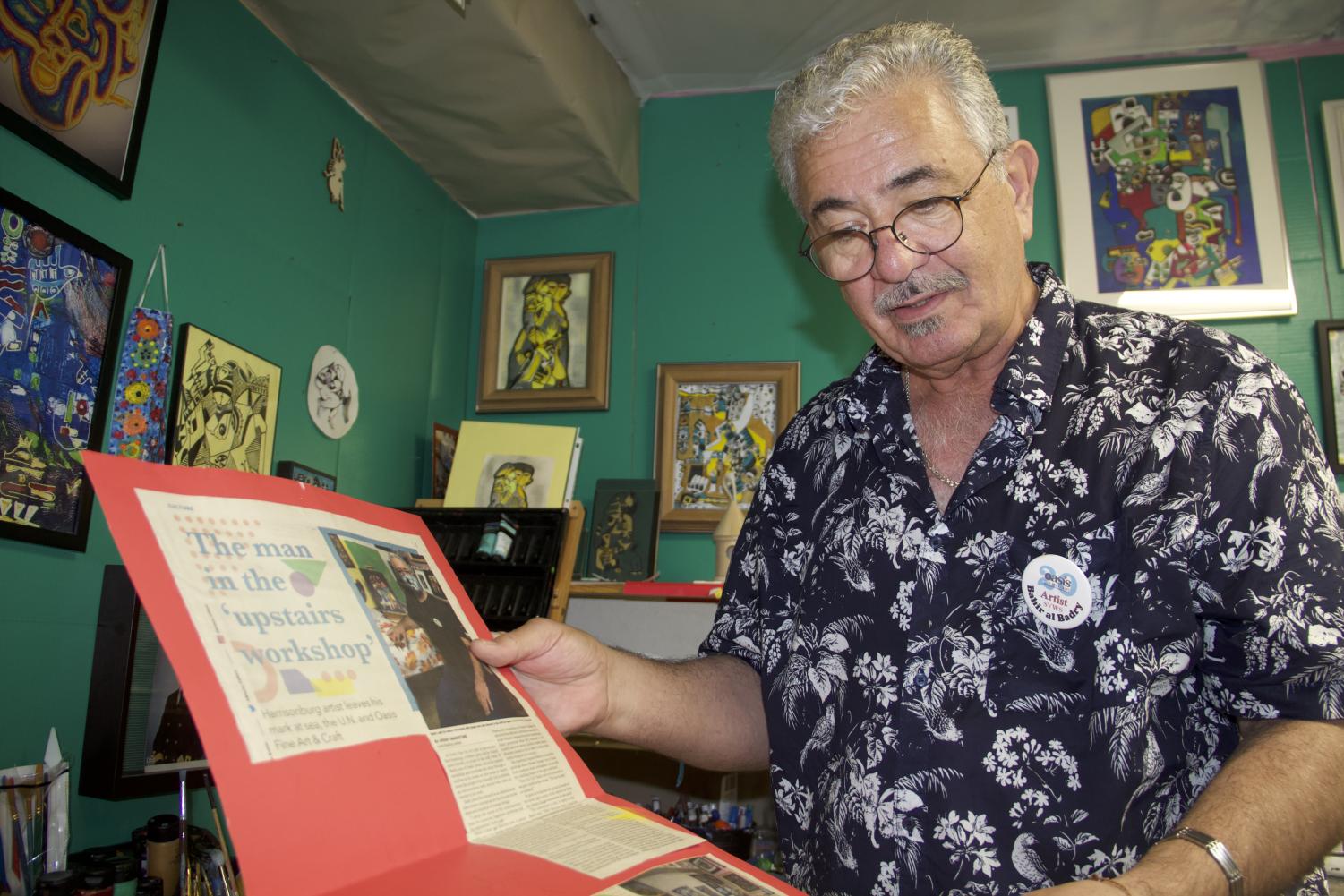 In his studio, al Badry pulls out an article written about him in James Madison University's student newspaper, The Breeze. "This was her first time writing an article," al Badry said of the reporter, smiling.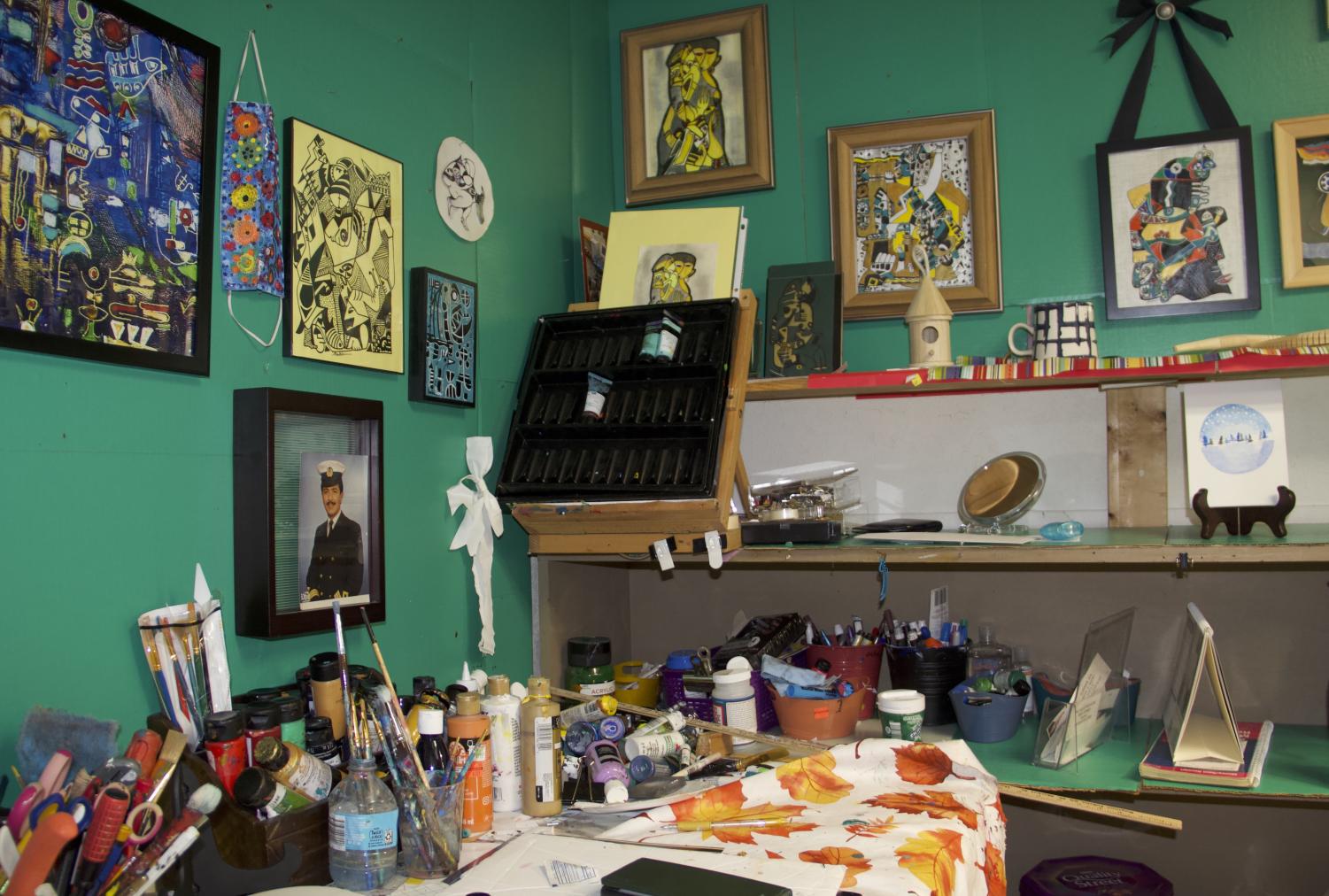 A photo of al Badry from his time as a marine engineer hangs over his work area. Despite having retired, al Badry said he continues to use his time at sea as inspiration for artwork. He said his style "is changing, just like my ocean life," shifting "from port to port."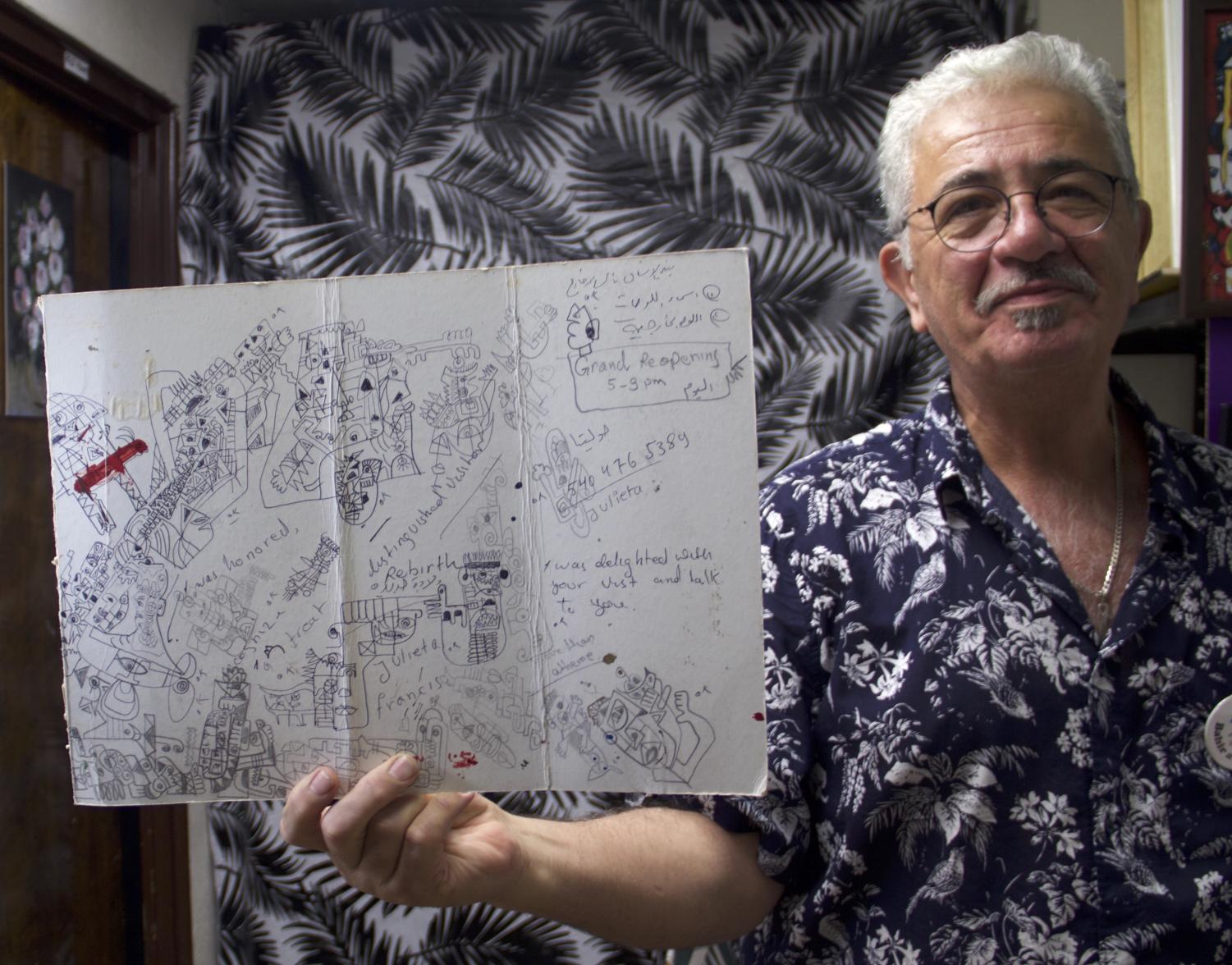 Al Badry said he also finds inspiration in old doodles, like these.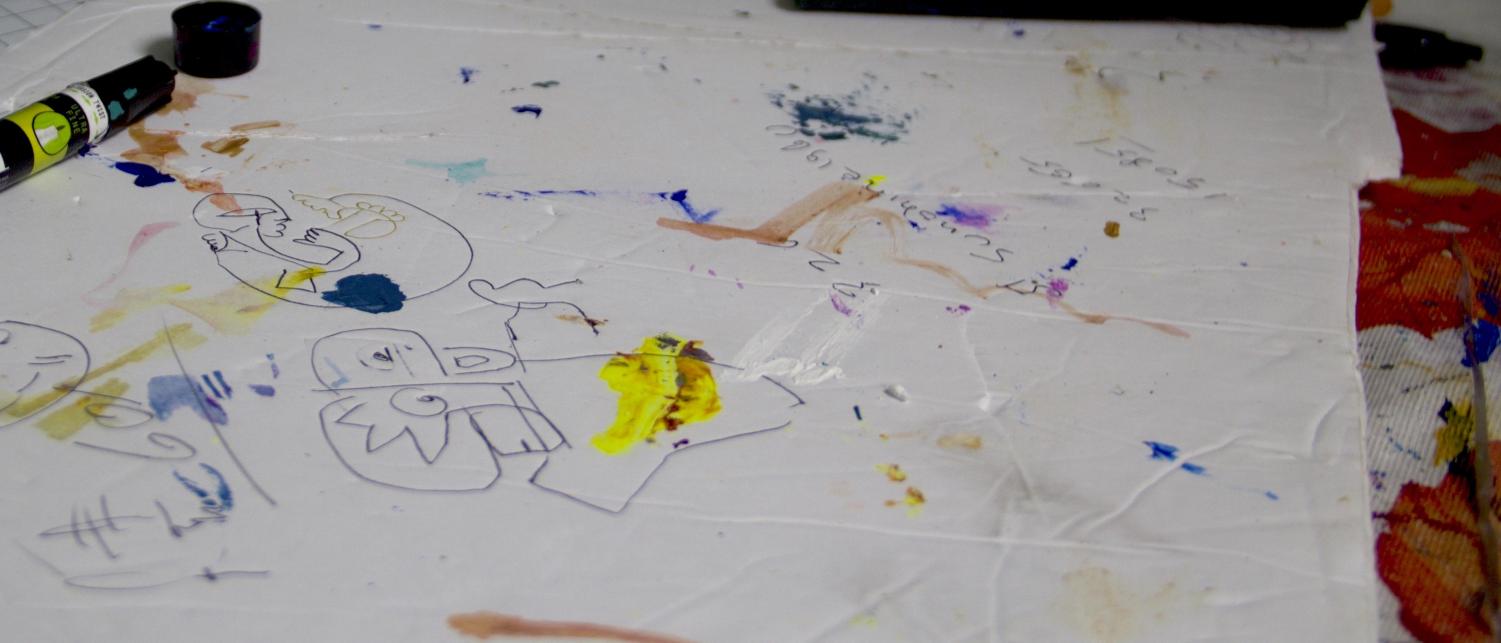 Often, al Badry starts by sketching images on his desk. He said it's the shapes that bring him the stories, sometimes.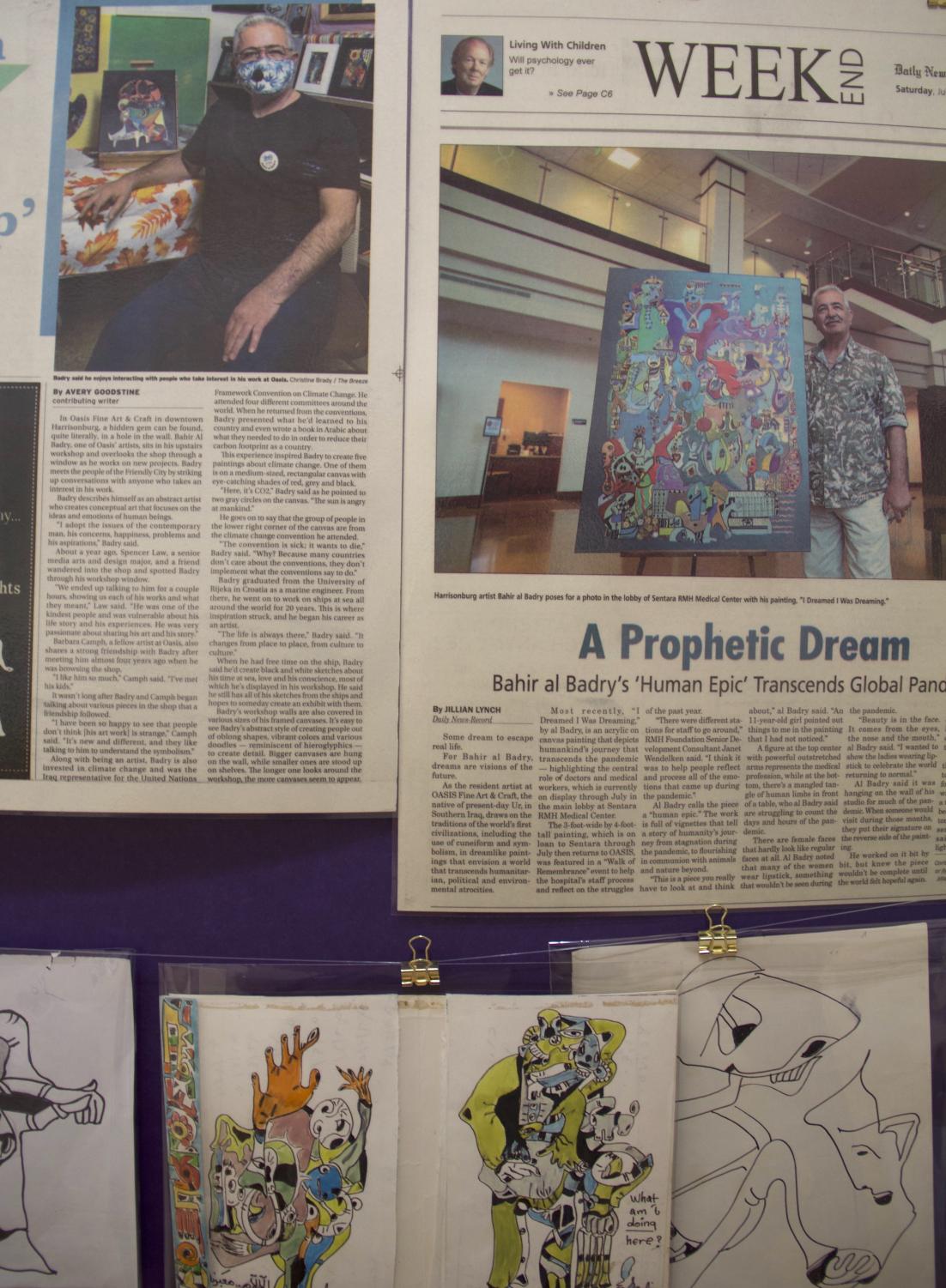 However, al Badry also creates paintings in response to life events. The piece featured in the article above, "I Dreamed I Was Dreaming," illustrates different stages of the COVID-19 pandemic and took seven months to complete. Al Badry said he would stay in the studio at night "just to finish it."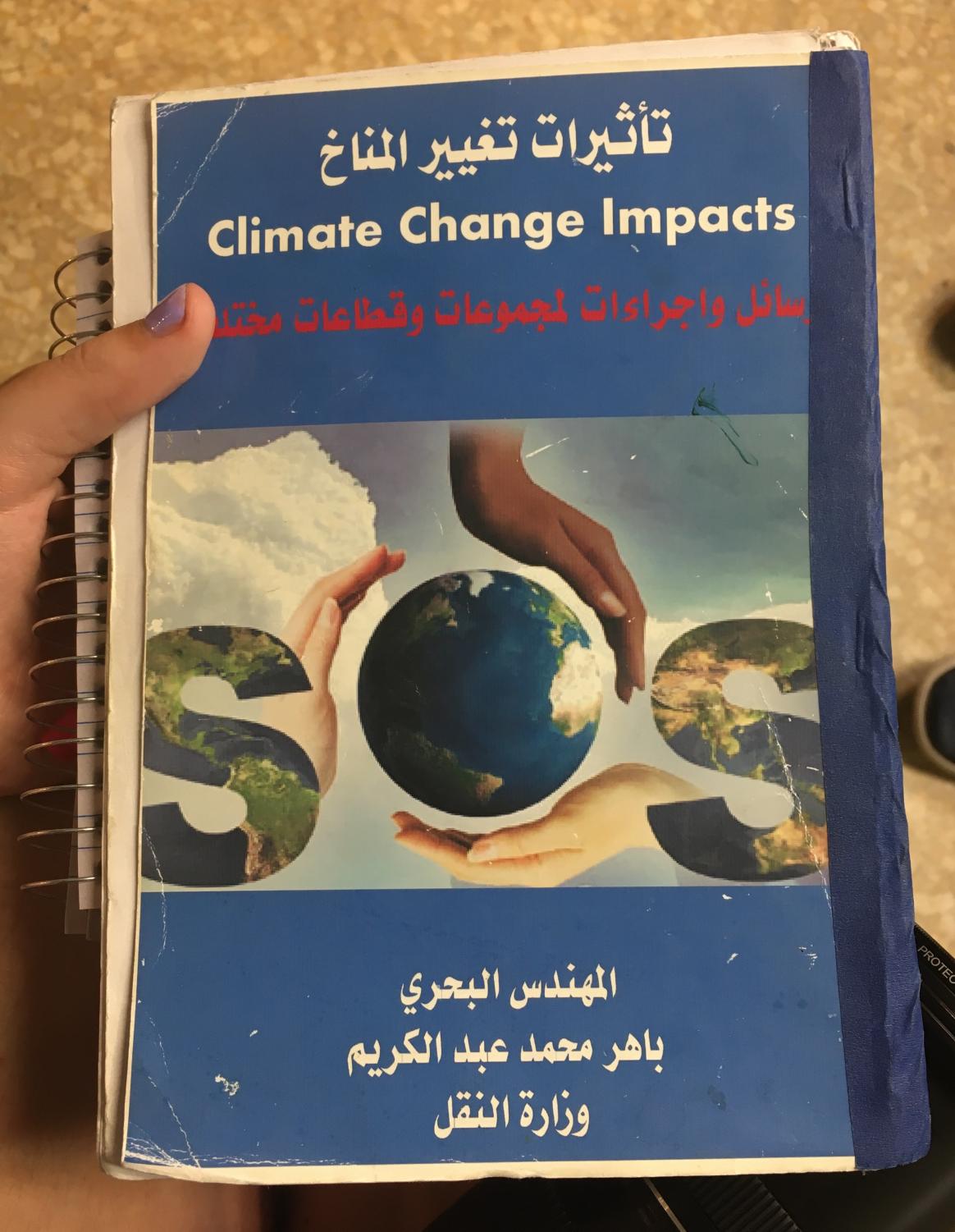 An important issue to al Badry is climate change. He distributed a book about the effects of CO2 to students in Baghdad, Iraq. After attending the United Nations International Conference on Climate Change four times, al Badry said he felt a desire to "do something," and began creating artwork on the topic.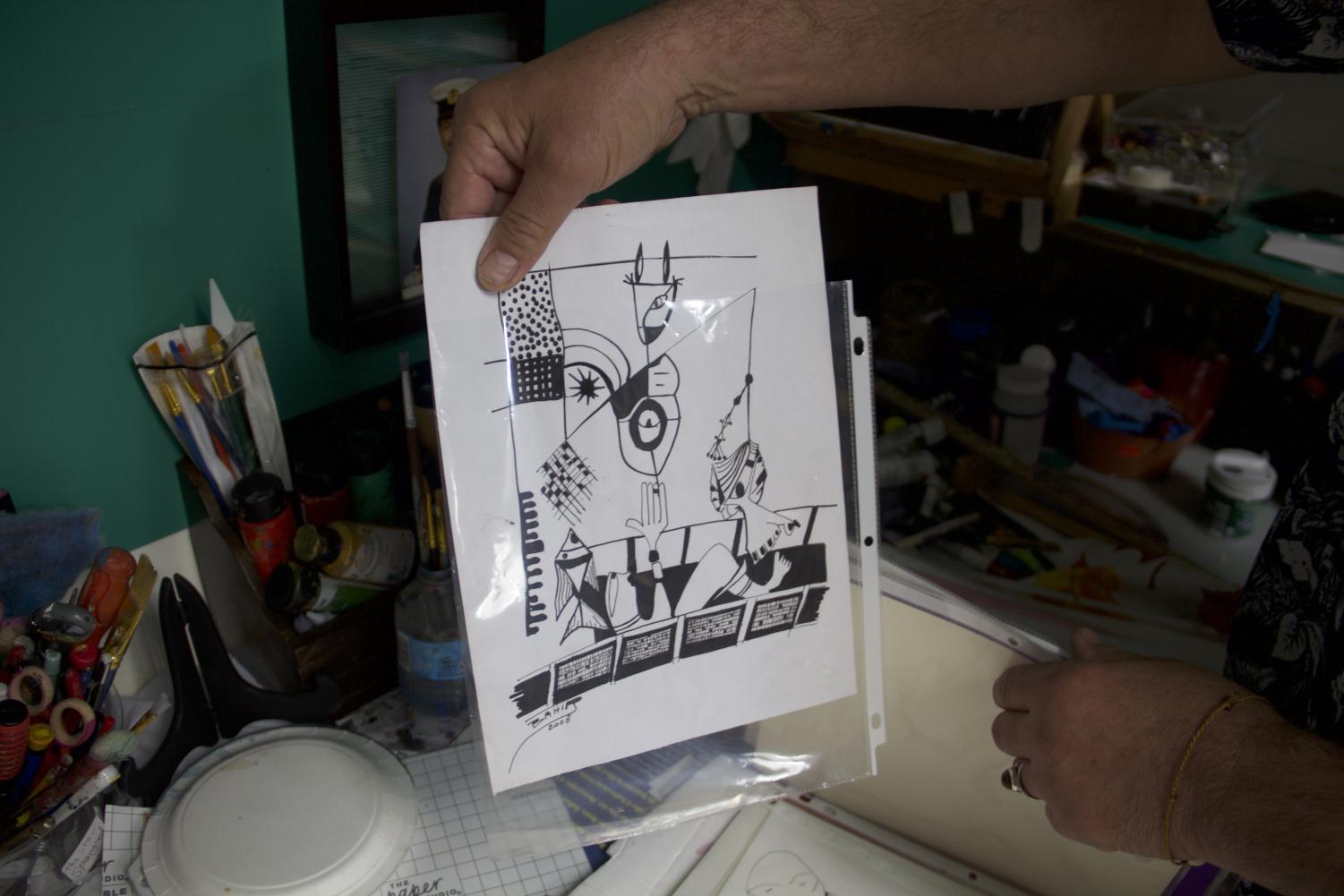 A black and white drawing of al Badry's, one of many stacked on his desk. "He's a very hard worker," Camph said.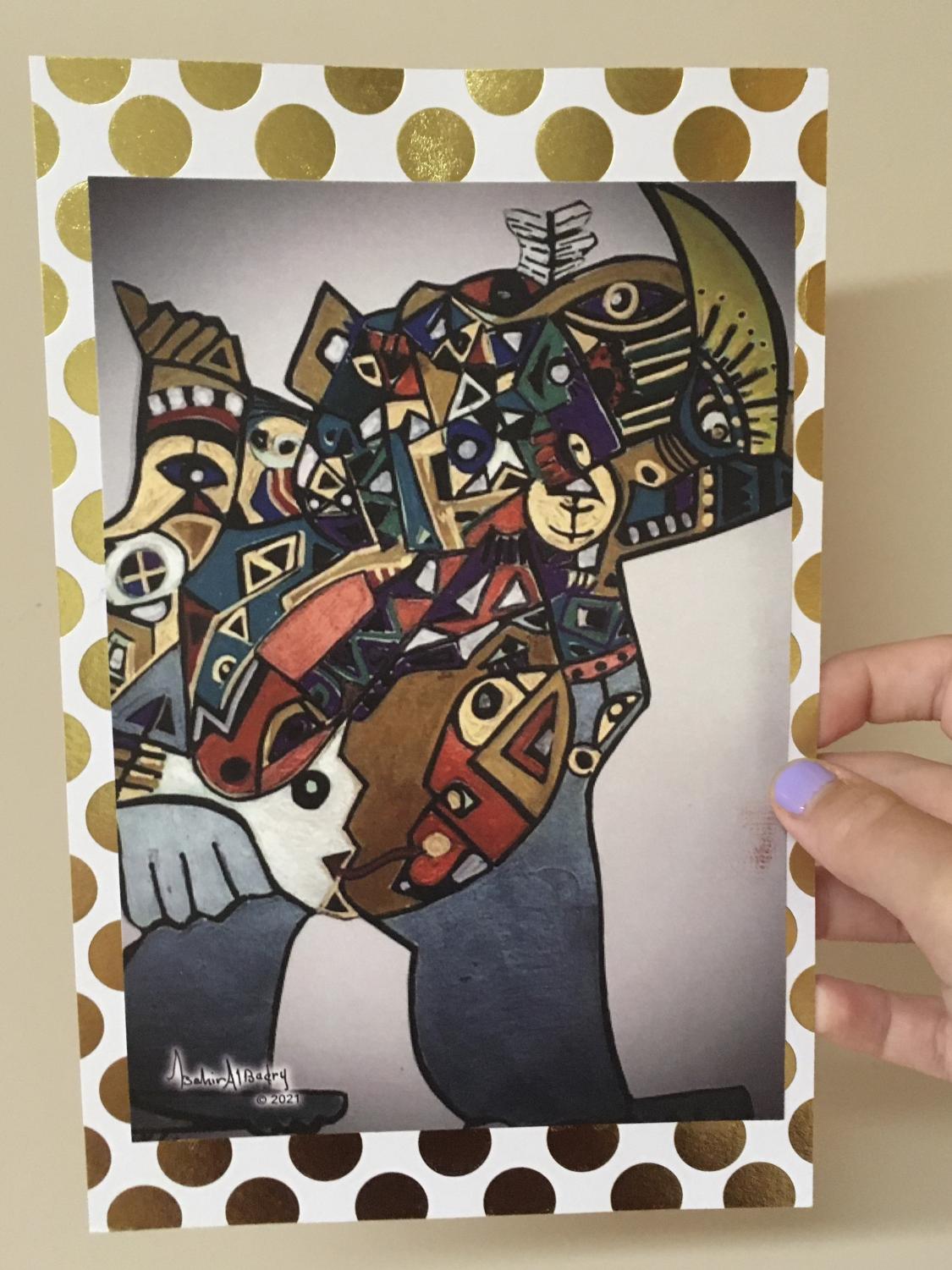 A print of "Searching for the Truth." Al Badry explained the piece: because the subject "is looking down, he'll never find the truth," he said.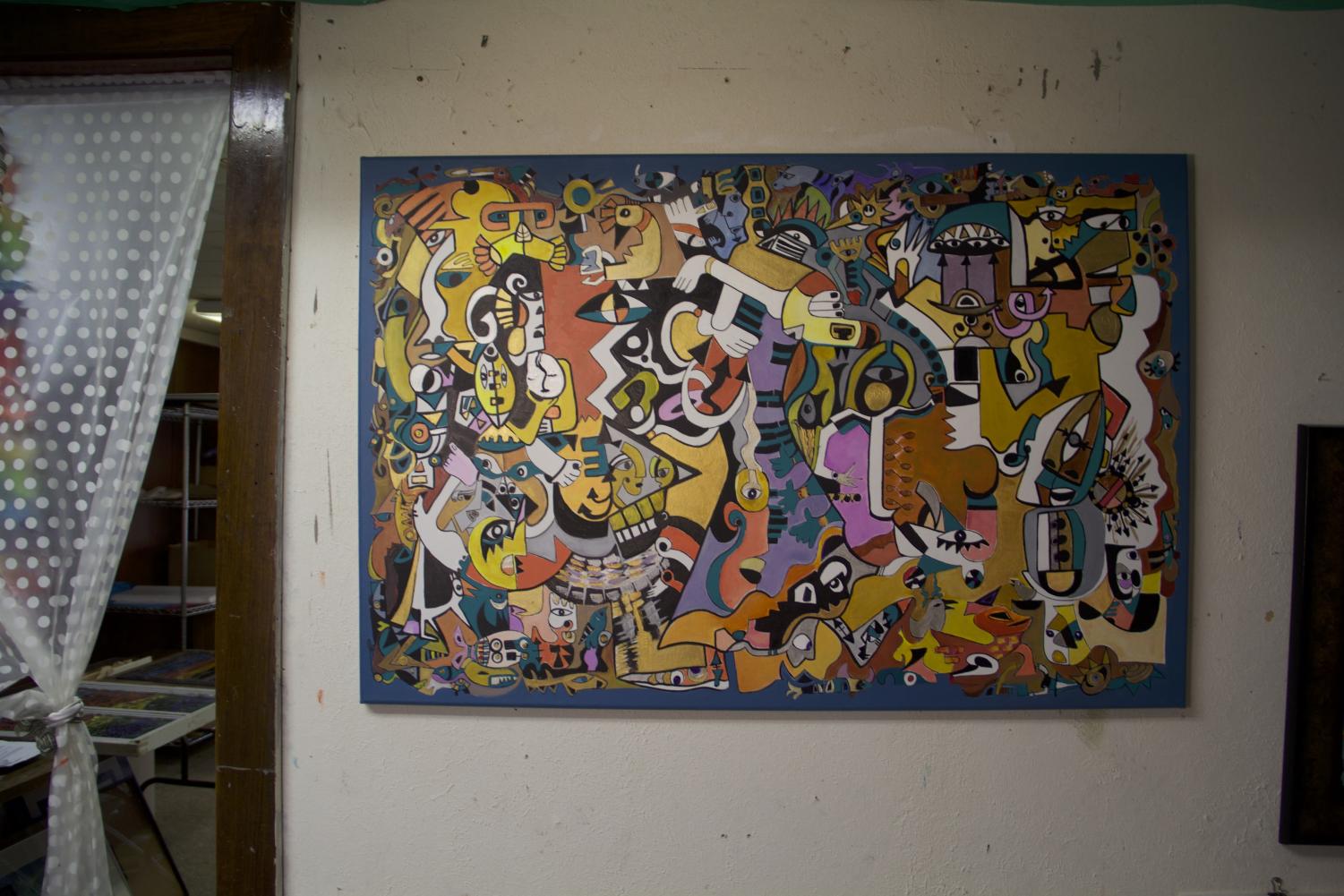 Al Badry's newest piece hangs adjacent to his desk, incomplete. He said he will need to think of a name soon.
OASIS Art & Craft has a brick and mortar shop at 103 S Main St, Harrisonburg as well as an online store, oasisfineartandcraft.org.
Bahir al Badry is on Instagram @badry.albadry.
Leave a Comment