The Business That Inspires
The Business That Inspires: Google Site
Up N Smoke BBQ is a local family owned mobile restaurant that serves Virginia-style barbecue to the community of Harrisonburg. Family is at the heart of this business according to Nelson Garcia. "It's a family run operation, but it's the best way to do it," Garcia said.
Up N Smoke BBQ has a main kitchen stationed at 930 W Market Street, Harrisonburg, Virginia and accepts online orders for pickup or delivery. The family also cooks food to sell every Tuesday and Saturday at the Harrisonburg Farmers Market.
Family business cooks up barbecue in tradition
Nelson Garcia plans on bringing light to Virginia barbecue after the years of it being neglected.
Having six additional running operations using the same kitchen doesn't stop Nelson Garcia from letting his family-owned barbecue business, Up N Smoke BBQ, shine. Starting last year following the COVID-19 pandemic, their business goal is to showcase the heritage of Virginia barbecue.
For Garcia, the best businesses are family-fun. Up N Smoke brings his brothers and parents together as they make their passion a reality.
With brick-and-mortar restaurants slowly fading away, it allowed the Garcia's to pivot into creating more of a pop-up business. This helps bring more recognition to their business as it's also considered an online operation.
"More than anything, it's been fun [going on this journey.] The whole process has been exciting and I recommend entrepreneurship to anyone and everyone because you get to learn what makes that fire light inside of you every day," Garcia said.
Once Garcia's family business started getting publicity, he wanted to return back to basics – traditional Virginia barbecue.
"I noticed that there was a lack of people keeping the recipe for the Virginia chicken alive. There was also a void of really good barbecue. The barbecue I had tasted either had liquid smoke or no smoke flavor at all and so we decided to do [barbecue with real wood-fired smoke]," Garcia said.
Garcia said his vision is to benefit the area by bringing back Virginia barbecue. His hopes are to inspire the new generation to continue this legacy. Garcia also stated that what he enjoys most about his job is hearing the joy in people's feedback on his barbecue.
"People's responses. They really seem to enjoy it. Not only the flavor, but also trying to keep the heritage going," Garcia said.
Despite Garcia's business still being in its infancy, he remains flexible.
"There's obstacles every day. That's probably what you get the best at, just rolling with the punches," Garcia said. "It's all about problem-solving here, and in a position of being in charge or just having responsibility in general, you have to get really good at problem-solving. Thinking on the fly and thinking on your feet is very important. That's a thing that you have to practice every day with being an entrepreneur."
Fortunately for Garcia, his business doesn't deal with significant obstacles on a day-to-day basis. Their main obstacle is out of their control.
"I've been blessed. I don't believe I've faced [any large obstacles] enough for me to say it has been huge, but one of the obstacles we face is the weather. The weather has been our biggest obstacle. When you have rain, when you have snow, and when you have cold [weather,] not only is it hard to light the grill but people aren't in the mood for barbecue. That's been the biggest challenge with doing an outdoor-based business," Garcia said.
Garcia keeps an open mind for the other local businesses in Harrisonburg. His morale allows him to not put down other companies since they're all there for a chance to bring publicity to their passions.
"We have a saying in Spanish that says 'the sun comes out for everyone,' so I feel like there's room for everyone to shine [with] their own thing. I wish them all well. I don't go out of my way to put them down," Garcia said.
By Adrian Kavazovic
Cooking Up Summer Heat
Local Family keeps the tradition of Virginia-style barbecue alive with a modern twist.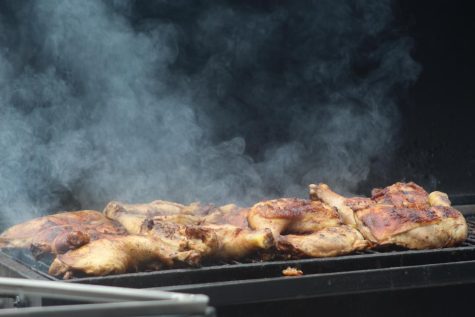 Harrisonburg is known for two things: summer heat and good barbecue. Luckily, Up N Smoke BBQ delivers on the barbecue.
Up N Smoke is a family-owned mobile restaurant that strives to keep the tradition and legacy of Virginia-style barbecue alive.
The whole chicken barbecue is cooked and prepared in front of the customer at the Harrisonburg Farmers Market every Tuesday and Saturday. This location creates a unique atmosphere due to the liveliness of the market and the almost backyard cookout feeling with the outdoor grilling.
Barbecue chicken and other smoked foods such as pulled pork are also available for online order. This lack of sit-down dining at their main location may be a negative for some diners.
The whopping portion size of the food was a welcome surprise, however, Up N Smoke BBQ do not serve any sides along with the barbecue chicken in the market and this could lead to patrons possibly feeling disappointed. The filling portion for $6.50 is an amazing deal.
The taste of the barbecue was mouth-watering and was a perfect balance of tangy and savory. The chicken had just the right seasoning, was moist, and was very tender. Two drawbacks are the limited selection of sauces and the food comes off the grill hot and can accidentally burn the customers' hands.
The service that customers receive couldn't be any better. The family members responsible for owning and running the business are very kind to their customers and always greet them with a smile and a thank you.
Overall, the experience is fantastic at Up N Smoke BBQ and with more variety in the flavors, this excellent quality could be elevated even further.
By Will Goodwin