Local business storm preparation in the 'Burg
Harrisonburg, Virginia is located in the Shenandoah Valley, shielding its residents from many natural disasters. The worst natural disaster ever recorded here was a blizzard that started March 5 and didn't stop until March 7, in 1962, with 33 inches of snow falling in just 24 hours. Since the winter storm of '62, the worst storms recorded have been snow storms. Because of this many local businesses aren't prepared for other types of severe weather.
Five farmers and three local business owners about how they prepare their products and store fronts. One of the co owners for Lola Mo's Delicatessen Logan Strawderman, stays open during snow storms, something that many other business owners in downtown Harrisonburg don't do.
Sophia Yoder
"[During] big snow storms we stay open because it's kind of proven that people see snow, they see adventure and they want to get out and go do stuff. It's proved pretty beneficial to us to come on down [to the store during a storm] because we [have] a few folks that can walk here. [One worker here], Chelsey, has a four wheel drive and can get here [easily and] I live up the street. We make it an effort to get here. You know shovel and whatever, do the best we can." Strawderman said. 
Lately, the most impact weather has had on Lola Mo's is the large amount of rainfall causing flooding in the basement where they keep most of their produce.
"In the past we've had, I guess, a hurricane type of situation happen, where a lot of flooding exists. Luckily we're just so [well positioned] that it doesn't affect us too much. We have a basement that has a sump pump, so it does pretty okay with keeping the water out. We did flood a lot out down there," Strawderman said. "I think the building management company has done what they can do to make sure it doesn't happen again. Other than that we don't really have a plan [for natural disasters], it's common sense or do the best you can."
Farmers at the Farmers Market weren't so prepared for more severe weather with many stating that they would simply start over next planting season or sell their farm. Farm helper and vendor Heather Myrtle works for a Woods edge Farm that plants many different types of produce.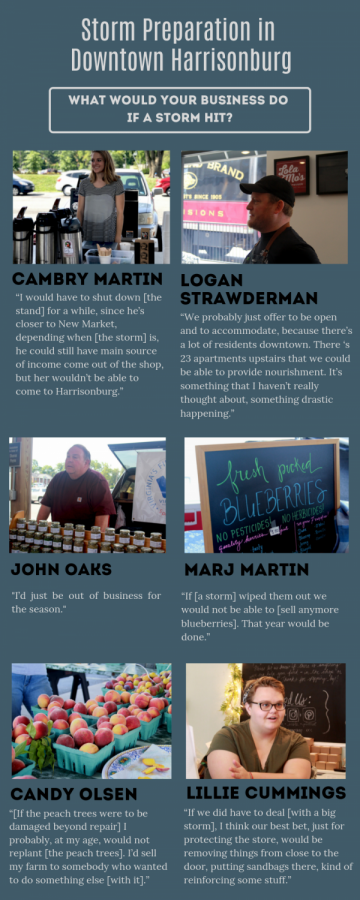 "We don't do anything specific to protect [the produce], we let nature take its course," Myrtle said. "I think the rain [has the biggest impact], just a lot of run off. [No huge natural disaster] in the past, that I can think of, has really impacted us." 
Peach orchard owner Candy Olsen had a similar experience with storms, except that if her peach trees were to be too damaged she would choose to sell her orchard.
"The limbs [of the peach trees] break [in bad weather] and we cut them off. There's nothing we can do about the storms," Olsen said. "[If the peach trees were to be damaged beyond repair] I probably, at my age, would not replant. I'd sell my farm to somebody who wanted to do something else [with it]."
Olsen was one of two specialized produce stand owners interviewed at the Farmers Market. The other, being blueberry orchard and stand owner Marj Martin. Martin has implemented more storm protection than other farms, with a net covering her blueberries. 
"Our blueberries are covered with a net and that helps, so we don't really do anything [to protect them from storms]. We've got the net up, we don't really do anything else. If [the storm] wiped them out we wouldn't be able to [sell anymore blueberries]; That year would be done," Martin said. 
The Lady Jane is a local business that sells artisan stationery and jewelry downtown. Sales associate Lillie Cummings noted that flooding would ruin most of their products and told us about their emergency weather plan. 
"Luckily we really haven't had a lot [of big storms in Harrisonburg], being in the Valley we're kind of protected on both sides with the mountains. Especially downtown I don't really feel like we experience a lot of flooding which is great," Cummings said. "We're really fortunate for that. If we did have to deal [with a big storm], I think our best bet, just for protecting the store, would be removing things from close to the door, putting sandbags there, kind of reinforcing some stuff. Luckily it's not a big problem we have in downtown Harrisonburg."
Out of all eight business owners and farmers interviewed, two businesses had plans for severe weather and two farms had inadvertent ways to protect their produce from the weather. In order to be prepared for a natural disaster, everybody has to have a plan for severe weather. Just because Harrisonburg hasn't been hit by many severe storms in the past, it doesn't mean that bad weather will always avoid us. 
Want to be more prepared but don't know how? Here's the link to Redcross.org, where you can find out more information on how to prepare for a natural disaster.
Leave a Comment