Local business New Creation supports survivors of human trafficking
When shopping locally, most customers simply purchase an item and carry on with their day. The profit made most likely goes straight to the corporation. However, New Creation not only supports the community but also, the nonprofit business is dedicated to helping victims of human trafficking around the world. 
Video by Maya Waid
"New Creation is a business but also a nonprofit with a mission of bringing awareness and education into our community," said Christina Swecker, Volunteer Coordinator and Store Manager at New Creation.
When walking down South Main Street in downtown Harrisonburg, many people, even locals, are unaware of the sign that points to the Agora Market. Located just within the doors in a corner in the back right is New Creation, a business that has a mission beyond Harrisonburg. 
Similarly to other stores in the Agora Market, New Creation sells a variety of goods such as jewelry, clothing and body care items. However, New Creation is very diverse in what it uses its money for.
"The main thing that makes us different [from other businesses] is knowing that shopping with New Creation brings a greater purpose… and your purchase is also providing dignified work for women that are at risk of trafficking," Swecker said.
"
"We're providing jobs for [victims of human trafficking] where there aren't jobs, where there aren't opportunities." "
— Christina Swecker
In all 50 states of the U.S., there has been at least one reported incident of human trafficking. Being the second largest criminal industry in the world, the industry profits an estimated $150 billion annually. One percent of these victims will be rescued and eventually see their trafficker convicted.
"We know that with every single purchase that sale is going back to that woman and she is having an opportunity to support herself, to support her children, to support her family, and keep trafficking from becoming part of her story," Swecker said.
While New Creation is a business that affects women on an international level, the local community in Harrisonburg also has an impact on what the business is attempting to accomplish. 
"We work very hard to educate our community, to work with teens, to work with our young adults on just understanding some of the dangers of trafficking, some of the lures the traffickers are using, how to protect themselves online, and how to protect their friends," Swecker said.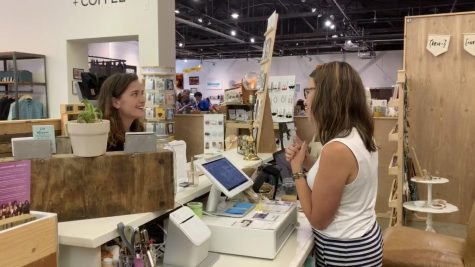 New Creation utilizes the support of the community to help give back to the women who supply them with an assortment of products. In the process, awareness is raised for the ongoing issue of human trafficking in our society today and how we can make a difference one purchase at a time. 
"All of our items are handmade from either survivors, or in a fair trade way.They are creating beautiful items that we're able to purchase from them so that our shop serves as a marketplace for all of the items they've made," Swecker said. "We are providing dignified work for women that have been rescued from trafficking."
Leave a Comment