Engaging Your Audience: Entrepreneurship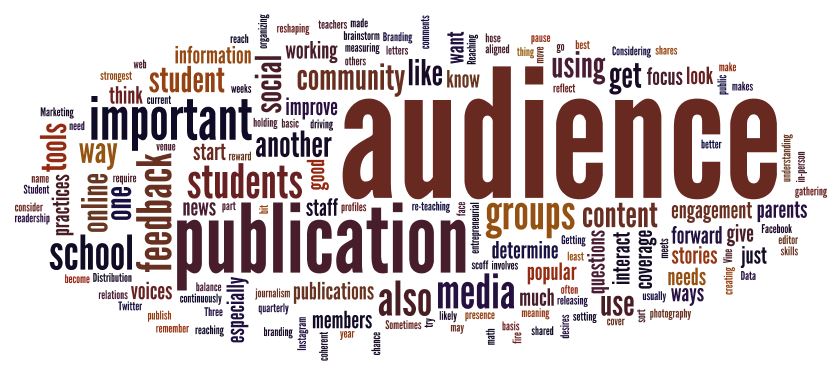 Abrianna Nelson, CJE, Entrepreneurship Module Leader
September 30, 2014
There is so much to think about at the beginning of the year – setting goals, organizing for photography and re-teaching news gathering skills, just to name a few. It seems like you need to cover all of these important things in the first few weeks so you can start producing your publications.
I invite you to pause and remember a very important group: Your audience.
Who is your audience?
How often do you consider all of the groups that make up your readership – students, teachers, administrators, parents and community members? If you have any sort of online presence, especially if you are using social media, you are reaching outside of the school walls. Those other groups can become an important part of the marketplace of ideas for your school.
When I taught at Pleasant Ridge High School in Easton, Kan., my students found that parents and other community members liked and shared our articles just as much as our students. Considering their perspectives made our coverage more robust.
One lesson from the JEA Curriculum Initiative Entrepreneurship module that may help you with this is Defining a Market Audience.
How do you reach out to them?
Three important tools for audience engagement are:
1.  Marketing: Demonstrating to your audience how your publication meets their information wants and needs
2.  Branding: Putting forward a coherent public relations strategy for your publication to give it meaning and a "face"
3.  Distribution: Getting your publication to your audience and creating procedures for their feedback
Social media tools, such as Facebook, Twitter, Instagram, Vine, Snapchat and others, can be used in all aspects of audience engagement. More than likely, your audience is engaging with one another using these tools. It makes sense for your publication to interact with your audience the way they interact with one another. This can look like driving your audience to online content, releasing breaking news or asking questions and holding contests. It can also look like using in-person experiences at your school, especially for publication branding.
Another lesson that might give you some ideas for this is "Publication Branding".
What do they think about your coverage?
Reaching out to your audience gives you the chance to receive feedback. Student publications are the strongest venue for student voices; all voices. Sometimes advisers and students scoff at matching content to the desires of the audience, but without an audience, it does not matter what you publish. The point of a student publication is to give a voice to the community, not to be a fire hose of information that is not relevant to them. It is important to balance of the interests of your staff and your audience.
Surveys, focus groups, letters to the editor and social media are all good ways to get feedback from readers. You can also use web analytics to determine which stories were most popular and then try to determine why. At our school, student profiles are usually our most popular stories, based on likes, shares, and comments. We also include questions in our social media posts when we use them to link to online content from the website, which is a good way to start conversations.
This lesson looks at two case studies about considering the needs of an audience when launching a website, "Adding a New Publication".
How can you improve your publication?
It is one thing to get feedback; it is another to know how to use it. Data from surveys and focus groups needs to be analyzed with basic statistical measures to know the best way to move forward. This may require a little bit of math, but the reward is a better picture of what is working with your audience and what isn't. There are several lessons in the Entrepreneurship curriculum that deal with writing surveys and analyzing the results, including:
1.  "Creating a Public Relations Strategy"
Your staff should also reflect on their current practices and brainstorm ways to improve on at least a quarterly basis, continuously building and reshaping an entrepreneurial vision for your publication. Where do you want to go? How do you want to get there? What is working with your audience? What isn't? Entrepreneurship in journalism involves understanding your purpose and measuring how aligned your practices are with it.
Do you need some help?
The Entrepreneurship curriculum module on the JEA Curriculum website contains 12 weeks-worth of lessons to help you teach your students about tools such as social media, branding, marketing, advertising, fundraising and distribution, which enable you to involve your audience and create publications that meet their needs. Like the other modules, the Entrepreneurship module contains full lesson plans with handouts, assessments, PowerPoints, and more. It is split into four units: Introducing Entrepreneurship, Audience Engagement, Publications Marketing, and an Experiential Project.
Beyond that, I am hosting an online chat at 7 p.m., Central, Thursday, October 2, 2014, to discuss implementation of lesson plans and best practices for incorporating the topics from the Entrepreneurship module into your curriculum. I would love to hear about your experiences with Entrepreneurship and answer any questions you have.
You can also join me at the JEA/NSPA National High School Journalism Conference in Washington, D.C., in November at two sessions on Saturday morning, "Engaging Your Audience" at 8 a.m. and "The Debt Crisis" at 9 a.m.
Email Abrianna at 

[email protected]

, or follow her on Twitter: @abrianna85