Tips for Planning Your Trip to JEA/NSPA in DC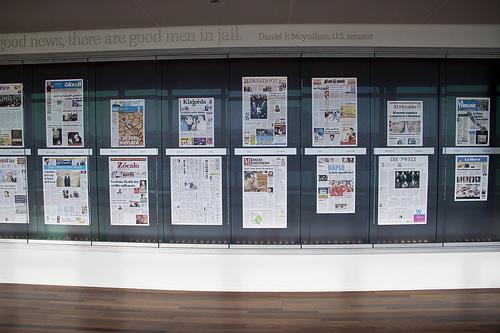 Valerie Kibler, Virginia State Director, JEA
September 2, 2014
Planning a trip to the Fall JEA/NSPA High School Journalism Convention in Washington, D.C. this November? If you're not,  you should be! This is going to be an event you will NOT want to miss and you and your journalism students need to be there!
My first tip would be to go to the new JEA curriculum (the leadership module – CLICK HERE to go directly to that lesson/the log-in for the curriculum area of jea.org) where there is an actual lesson you can use with students to plan a trip. (And even if you don't use it as a lesson, you might pick up some great ideas from advisers all over the country. If you're a JEA member, you do have access to this curriculum (and if you haven't checked it out yet, there are over 300 lessons there that will just make you giddy with excitement!). If you're not currently a JEA member, the minimal fee for annual membership is worth the curriculum alone!
Involve your students in the planning. Especially your leaders. The more buy-in you get from them, the more they will contribute and want to go/be willing to fundraise and pay. Let me quickly say it's always doable. When I first went to Boston, I was living in rural Southwest, VA and those kids didn't have a dime. We came up with crazy fundraisers and filled a chartered bus to go to Boston – for many of them, it was their first trip out of the county. To make a chartered bus work well, consider teaming up with other area schools and each committing to a certain number of seats.  It sounds like you might have enough students interested to fill your own bus, even if half of your kids went.
To get your kids pumped, start taking them to the websites and publications on issuu.com of some of the best papers/programs in the country who ALWAYS go to conventions. Convince your students that that is how those programs got to the top and stay there – by learning from the best and meeting/collaborating with other scholastic journalists around the country. I think we can always tap into our students' innate competitive nature, especially if we have that streak, too.
You can get four kids in each room which really reduces the cost of the hotel. Your bus company will probably agree to leaving early in the morning and returning late at night, so that could save you some cost.  I would suggest traveling to D.C. on Wednesday morning early, using Wednesday for any touring (or the Newseum???), then Thursday for pre-convention workshops if you'd like (or come up on Thursday morning really early and use that day for Newseum or touring? These are just suggestions, of course.
The convention kicks off on Thursday evening with Jay Harris of ESPN as the opening keynoter. You won't want to miss that for sure! There is also a social reception for advisers that you would enjoy.
Friday will be packed full of sessions for your students to attend. The program will be available online a few weeks prior, so you and your students can check out all of the classes and decide where they want to go for each session. That way, you can guarantee that your staff is covering as much ground as possible and they could potentially go back to your school and teach everyone else what they have learned. (Check out the first-five lesson in the leadership module of the JEA curriculum). It's always good to have students accountable for the sessions they attend. Believe me, when they go, THEY get pumped up and come back to your school wanting to change the world! (or at least your media….)
Friday will also be highlighted by an advisers' luncheon held at the National Press Club. You will want to go to that – you can register online when you register your students. Because that is not in the hotel, we will provide transportation from the hotel. Your students can get lunch at the hotel or local restaurants within close proximity. The hotel is in a great section of D.C. – right across from the National Zoo as a matter of fact.
You will want to hurry back from lunch to meet up with your students to experience Bob Woodward, our second keynote speaker. He will be absolutely amazing! JEA has named All The President's Men as its "One Book" project for this fall. Make sure your students are familiar with the investigative reporting that went into uncovering the Watergate scandal.
Friday afternoon is when JEA holds their write-off competitions. I would try to get as many students as you can into these different competitions. Click Here to get a description of the different categories and rules. Even if your students seem intimidated by the notion of competing against others, this is SUCH an incredible experience for them. They learn quickly that they are just like other teenagers around the U.S. and you will inevitably have someone be recognized, which will boost your staff's confidence more than anything else you can do.
Friday night, there are many options for your students and some just for you, too! We will be having a huge trivia competition on site for the students. That's free and kids should love it. There will also be a "Monuments by Moonlight" 2-hour tour, one leaving at 7, one leaving at 9. This will be $20 per person and a trolley will pick participants up at the hotel and return them to the hotel when it's over. Students will not be able to get off the trolley, so I'll feel comfortable sending my students on this without me being along (and I'm sure other teachers will be going along with kids, so there will be adults).
For advisers, there will be an auction to benefit the Student Press Law Center (SPLC). Teachers can volunteer to judge the write-off contests if they'd like prior to the auction – dinner comes with that – and then go to the auction afterward. It's the 40th birthday for SPLC, so we will be having a huge birthday party theme. You can bid on some really cool stuff, too – everything from sports paraphernalia from professional athletes/teams to autographed books to vacation weekends to baskets of goodies, computer software for journalists and so much more.  You always get a GREAT deal on these items AND you are helping out SPLC.
Saturday has another packed day full of sessions for advisers and students. There is also a special advisers' luncheon, where the Dow Jones News Fund Newspaper Adviser of the Year will be recognized will speak along with the Carl Towley award winner (JEA's top award – find out more about this a www.jea.org).  Of course, you and your students might wish to attend the awards ceremony Saturday afternoon where NSPA awards their Pacemaker awards. Whether or not your staff has earned one, it's always good for them to see other teens who are so committed to their craft. The excitement is palpable.
Sunday morning's awards ceremony is where the write-off winners are announced.  While it's nice, JEA will send them to you if you aren't able to attend.
Other things you might consider taking advantage of – check them out with your registration booklet (or online at www.jea.org or studentpress.org:
Break with a Pro

– your students can sit in small groups with a professional journalist and learn so much in an hour.

Swap shops

– your students will be grouped with other students from around the country and will exchange ideas and develop journalistic relationships that might just continue after you leave the convention.

On Site critiques

– you and your staff can sit with an experienced adviser who willHhsmedia.comblication or website with you and make a ton of great suggestions to help you improve. This is one of the most valuable experiences for your staff!

Media tours

– On Thursday and Friday, students can go to local media outlets and get some terrific tours.
We will have some

really cool t-shirts, long sleeve t-shirts and sweatshirts

available for your students to purchase (both read and navy blue and reasonably priced $10 t-shirts, $15 long-sleeve t-shirts, $20 hoodie sweatshirts).
There are

SCHOLARSHIPS

available that could be helpful for some of your students. They cover the cost of the convention.  Applications can be completed online by CLICKING HERE.
There is an

adviser hospitality room

where you can kick back and mingle with other advisers. This year, we will have a special

"Meet the Super Stars"

activity going on in this area where you will be able to share/learn from some of the most successful advisers to ever!
JEA has an extensive bookstore on site where you can find incredible resources for your classroom, so pack an extra tote bag or suitcase so you can carry your purchases back home!
I strongly believe these conventions are the single most important key to growing your journalism programs. Contact me at [email protected] if you need any more information or have any questions. See you in D.C.!