Above the Fold and Beyond
A Student Journalism Journey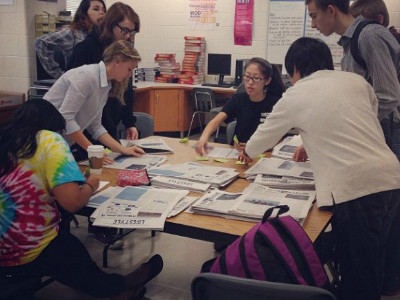 Meilan Solly, 2014 Virginia Student Journalist of the Year
December 4, 2017
At the beginning of high school, my journalism experience was limited to screenings of the movie Newsies and trips to the Newseum. Still, I was convinced that reporting was my life's calling, so I joined the student newspaper and set myself several goals: first, become editor-in-chief of The Husky Headline, next, editor of my college paper, and, eventually, editor of The New York Times.
Eight years later, my résumé includes print and web bylines in Smithsonian and Kiplinger's Personal Finance magazines, the local branch launch of a national chic feminism magazine, and two of the three positions I've aspired to since the first day of freshman year (haven't wrangled The New York Times editorship yet, but I hear Dean Baquet is doing a fine job in my stead).
I've written about the myth of a sultry spy named Mata Hari, dollhouse-sized crime scene dioramas, jobs you would never believe exist, sexual harassment in a small Scottish town, law students' mental health, and grade inflation in Loudoun County; interviewed sources including a Holocaust survivor, Tlingit clan leader, NASA astrophysicist, brewing historian, and body parts model; and appeared as a guest speaker on four radio shows.
Simply put, I feel most alive surrounded by sans serif fonts, perfectly aligned InDesign text columns, and Google Drive folders filled with research and interview transcripts. Journalism may be a thankless profession–especially when dealing with low pay and internet trolls who derive joy from attacking mundane subjects (this summer, Facebook commenters attacked my inclusion of the phrase "belly flopping" in a headline because the baby panda in question had apparently fallen, not flopped)–but it's also the most rewarding, and my dedication to the field stems from the four years I spent working on The Husky Headline.
Tuscarora High School opened my freshman year, so the paper's inaugural issue was also my first as a staff member. Our front page, created in Publisher and dotted with tacky Word Art, unjustified text, and irregularly sized photographs, featured three profiles, including my first above-the-fold article. It began with the lede "Dictionary.com defines adventurous as…," so you can probably guess how well the rest of the story was written. At the time, I couldn't differentiate a nut graf from a flag, but I knew that I wanted to see my name in print again, so I just kept writing.
Soon, I was spending most of my free time in our staff's home base, lab 400, obsessing over comma placement and learning the art of Adobe. Deadline Nights, or four-hour marathon layout sessions accentuated by Chinese take-out, the occasional dance party, and frantic pleas to my adviser in hopes that she would let us keep working past 8 p.m., became my favorite events of the year.
Eventually, my semi-permanent presence in lab 400 earned me the paper's editorship. I began senior year armed with a total print redesign, 40-page staff handbook lovingly crafted over three weeks of the summer, and stories from my time as the Al Neuharth Free Spirit and Journalism Conference's Virginia state representative. And, at the end of the year, the countless hours I'd dedicated to The Husky Headline culminated in my proudest achievement of high school: winning the Virginia JEA Student Journalist of the Year award.
The JOY application process has evolved since my days (yes, thanks for asking, I do feel ancient after writing that), but the underlying concept is the same. Although applicants produce a web portfolio instead of a 50-page print one, the standards for good journalism transcend medium. In today's tenuous media landscape, clear writing, news instinct, and a solid code of ethics are more essential than ever.