McLean High School's Melanie Pincus named Virginia Journalist of the Year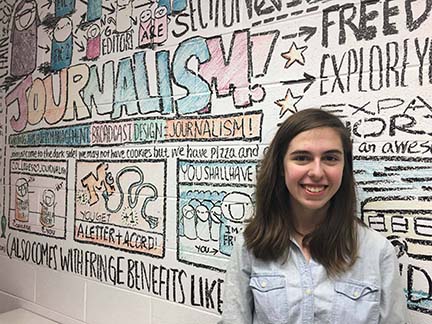 Congratulations to Melanie Pincus, a senior editor-in-chief at McLean High School who has been named the Virginia Student Journalist of the Year by the Virginia Association of Journalism Teachers and Advisers (VAJTA). Pincus' digital portfolio will now represent Virginia in the national student journalist of the year competition sponsored by the Journalism Education Association. Pincus will also receive a $1000 award for her accomplishment.
Judges commented that "Pincus' portfolio looks like that of a college senior, with internships, awards and hard news reporting that shows a hunger and knack for telling important stories. She takes stories that might appear mundane, such as teacher salaries, and explains them in a way that her readership will find compelling. She also infuses that dedication to excellence into the rest of her staff by providing leadership and training, both formally and informally. She has a bright journalism future ahead of her, and it's clear her presence will be missed when she graduates."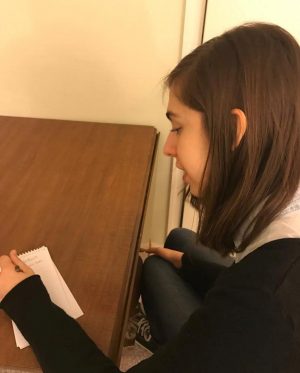 Another judge added, "It's great to see [Pincus] conducting outreach to the middle school as a recruitment effort and to spread awareness about publications. More specifically, the media literacy presentation is a fantastic example of making a difference in a meaningful way. YES! This is such a timely and relevant topic."
Teagan Foti of Annandale High School earned second place in the contest. She will receive a $500 award from VAJTA. Foti's adviser is Alan Weintraut. Judges awarded Nina Raneses of West Potomac High School third place, with a $300 award. Her adviser is Whitney Huntington.
A judge commented that "it's hard to find a student journalist as well-rounded as Foti. She has truly taken advantage of her time in student media by participating in every area of production, and it's obvious how much she has grown in her time with scholastic journalism."
Of Raneses' portfolio, one judge commented: "Raneses has a broad and prolific resume that stands above most of her peers. But what was really intriguing about her portfolio was her devotion to the craft of journalism, and student media in particular. She truly loves and appreciates the power of a free press, and she wields that power to align with the old journalism adage of "comforting the afflicted and afflicting the comfortable."
Judges for the Virginia competition were Kelly Furnas, lecturer in communications and publications adviser at Elon University, JEA President Sarah Nichols from Rocklin, California and JEA Scholastic Press Rights Commission Member Lori Keekley from Minneapolis, Minnesota.