Harrisonburg High School's Mia Karr named Virginia Journalist of the Year
After six years of working with the Harrisonburg High School Newsstreak staff, senior print editor-in-chief Mia Karr received the Student Journalist of the Year Award for the state of Virginia this month. Sponsored by the Journalism Education Association and its state affiliates, this award is given to one student journalist in each state each year. Karr will advance to the national competition where her portfolio will compete for a $5,000 scholarship.
For the state competition, Karr created a portfolio of her best work throughout her journalism career. This portfolio took Karr a month and a half because she looked through every piece of writing she has done for her journalism class.
"I went back through all the issues [of Newsstreak] that we've done since I was a freshman and I looked at all the stories I'd written and I looked at the pages I'd designed, and then I also looked through all the online stuff I had done," Karr said.
Karr's primary focus was to show the judges of the competition that she is able to cover a broad range of journalism.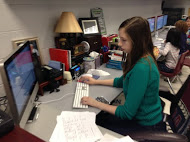 "I was trying to, first of all, show a variety of different writing. So I tried to [show] opinion, feature, sports, news; I tried to cover all the basics, and similarly for design, I tried to do that," Karr said. After Karr displayed her versatility with a wide spectrum of topics and designs, she also provided stories of particular interest or meaning to her.
"[I picked] stories that stuck out to me as being well-written or being interesting stories, or things that I had a unique story to tell about, like [if] I had a hard time completing the      assignment or it covered a sensitive topic, just things I thought would make me look good and wide variety of things in scholastic journalism," Karr said.
Since her days of being the Newsstreak's middle school correspondent during seventh and eighth grade at Thomas Harrison Middle School, not only has Karr's journalism developed, but also her confidence.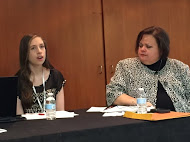 "A big thing that I realized looking back was that I initially was very timid… When I was a freshman I really did not want to interview upperclassmen or teachers; I was very intimidated by everyone. I never wanted to write anything that was controversial at all. So I think I've gotten a lot more confident because I've been pushed to do assignments or stories that I wasn't as comfortable with," Karr said.
Just last month, Karr wrote a feature story about students with children in high school, using the HHS nursery.
"[That's] something that would've freaked me out as a freshman, writing about that. But that was a cool experience to get to write that story and I wanted to do it now [that I've become more confident]," Karr said. Mrs. Valerie Kibler has been Karr's journalism teacher for the past four years and was the first to let Karr know about the news of her award on a Saturday morning.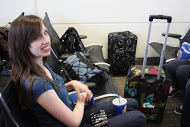 "I was really, really excited. Really happy. I guess, first of all, completing the portfolio was so much work, it was really nice to have it pay off. But also, it was just really exciting to receive the award because I know how big of a deal it is," Karr said. "I also think about when I was a freshman, the editor-in-chief then was Vanessa Ehrenpreis and she won this award and she was one of those people that as a freshman, I really looked up to as a journalist and a person. I've known about this award for four years because of that, and it's been on my radar."
Karr plans to continue journalistic writing for her college newspaper.
"It's really exciting to keep the Newsstreak tradition alive of winning this award and to be recognized for all the hard work that I've done," Karr said.
Karr will receive a plaque and a $500 scholarship from VAJTA at the awards luncheon at the upcoming jDay at Westfield High School in Chantilly on April 11.
Coming in second in the competition was Neeka Eghbali of Langley High School. Eghbali's adviser is Christina Mitro. Also an editor for her high school publication, Eghbali will receive a $300 scholarship at the jDay event.
Judges for the Virginia competition were Kelly Furnas, Executive Director of the Journalism Education Association; Sarah Nichols, JEA's Vice President and media adviser at Whitney High School in California; and Lori Keekley, adviser at St. Louis Park (Minn.) high school and member of JEA's Scholastic Press Rights Commission.