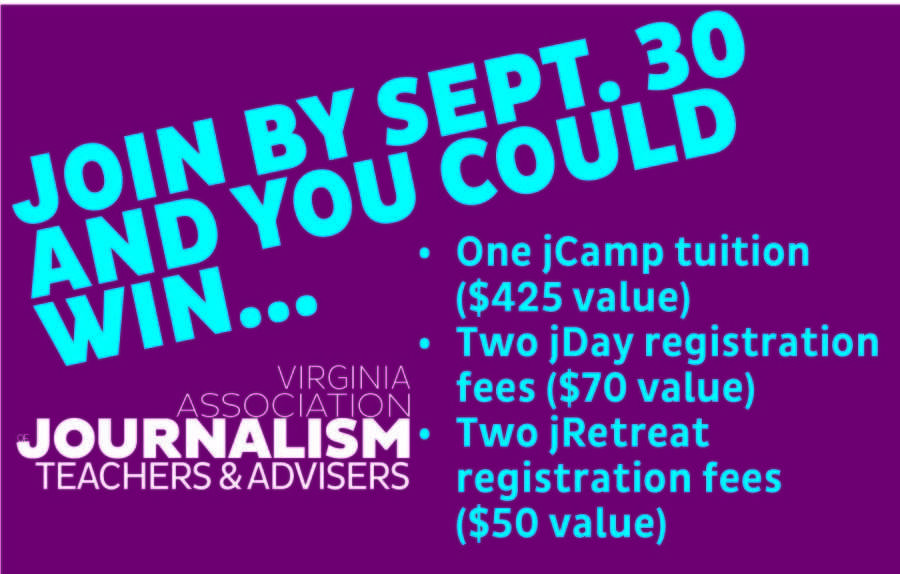 If you've ever thought about joining VAJTA or have it on your "To Do" list to renew, now is the time! If you join or renew by Sept. 30, you will be entered in a raffle to win one of three amazing prizes:
One jCamp tuition ($425 value)
Two jDay registration fees ($35 each)
Two jRetreat registration fees ($25 each)
If you'd like more information on any of these programs, you can check out our Save the Date VAJTA 2015 flier.  Here's the basic info for our first two events, jRetreat and jDay.
jRetreat (for advisers only) Jan 16-17, 2015 Petersburg, VA.  Don't this retreat with Adviser-in-Residence Aaron Manfull
jDAY April 10-11, 2015, Westfield High School, Chantilly, VA. Featuring keynote speakers Jim Streisel and Kris Doran
Remember: your membership WILL NOT be complete until your check is received and processed. All current members as of September 30 will be eligible.
Click here to join: https://docs.google.com/spreadsheet/viewform?formkey=dHh4bzNMT3RZcmNLdUR0cmtESzlEb1E6MQ