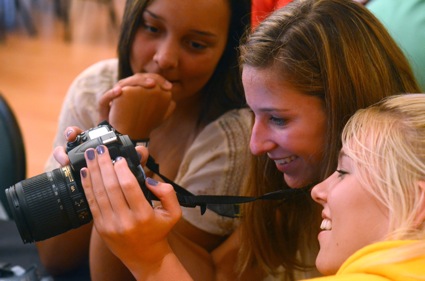 Alex Sanchez
We know it's July and summer really just got started, but it's never too early to get excited about the awesome programming coming your way in 2014-2015, so SAVE THE DATES!  Download PDF flier (Save the Date VAJTA 2015).
VHSL REGIONAL PUBLICATIONS CHAMPIONSHIPS (check out vhsl.org/activities for more information)
Oct. 6 ( Fredericksburg)
Oct. 8 (Roanoke)
Oct. 10 (Richmond)
NSPA / JEA FALL CONVENTION IN DC
Nov. 6- 9 Washington, DC – Marriott Wardman Park
It's the largest fall gathering of student journalists in America, and we have plans for great speakers, fabulous tours and more only-in-D.C. possibilities than you can imagine.
check out dc.journalismconvention.org/for more information
*BRAND NEW* JEA ADVISERS RETREAT
Jan. 16-17, Petersburg, VA – Cameron Foundation
Adviser-in-Residence: Aaron Manfull
Hilton Garden Inn Colonial Heights, (804) 520-0600, $129 a night
Comfort Suites Southpark Colonial Heights (804) 520-8900, $104 a night
There are no hotel blocks.  Just reserve your room and get excited!
CSPA SPRING WORKSHOP
March 18-20 New York City
check out cspa.columbia.edu/conventions-and-workshops for more information
SIPA SPRING CONVENTION
DATE TBD Columbia, South Carolina
check out sipa.sc.edu for more information
JDay
April 10-11, Westfield HS, Chantilly, VA
Keynote: Jim Streisel
NSPA / JEA SPRING CONVENTION IN DENVER
April 16- 19, Denver Sheraton
check out jea.org for more information