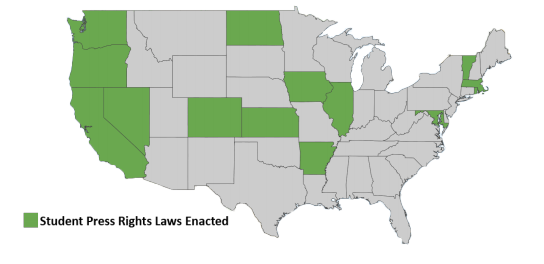 A New Voices bill has been introduced in the Virginia state legislature.
The bill (HB 36), which seeks to protect the First Amendment rights of student journalists and their advisers, will be up for discussion before the House Education Subcommittee on Wednesday, Jan. 29.
Even if you can't make it to Richmond, there are plenty of ways to get involved and support this significant piece of legislation.
WHAT CAN I DO RIGHT NOW?
Easy Tasks:
Like the New Voices Virginia Facebook Page.
Consider changing your social media profile pictures to the image at the bottom of this post.
Thank those who are already supporting the bill.
Medium Tasks:
Find out who your representatives are and contact them!
Use this document to figure out what to say when you DO contact your representatives via phone, email, or social media. (Here's a letter/postcard template as well!)
If you or your students have ever been afraid to cover a story for fear of retribution, reach out to us a [email protected] to share your story.
Encourage your students to write an editorial. Here's a sample from the Cavalier Daily at UVA. If they do, try and get them to publish this week and send us a link using the comments box below!
More Time-Consuming Tasks:
Make a plan to attend the Jan. 29 hearing either alone or with students.
If you or your students would like to testify, let us know at [email protected]