Thomas Jefferson High School's Christine Zhao Named Virginia Journalist of the Year
Congratulations to Christine Zhao, a senior at Thomas Jefferson High School for Science and Technology, who has been named the Virginia Student Journalist of the Year by the Virginia Association of Journalism Teachers and Advisers (VAJTA). Zhao is an editor-in-chief at tjTODAY, which is advised by Erinn Harris.
Zhao's digital portfolio will now represent Virginia in the national student journalist of the year competition sponsored by the Journalism Education Association. Zhao will also receive a $1000 award for her accomplishment.
Aseal Saed of Annandale High School earned second place in the contest. She will receive a $500 award from VAJTA. Saed's adviser is Alan Weintraut.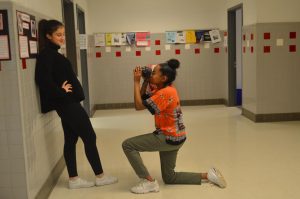 Judges awarded Lucie Rutherford of Harrisonburg High School third place, with a $300 award. Her adviser is Valerie Kibler.