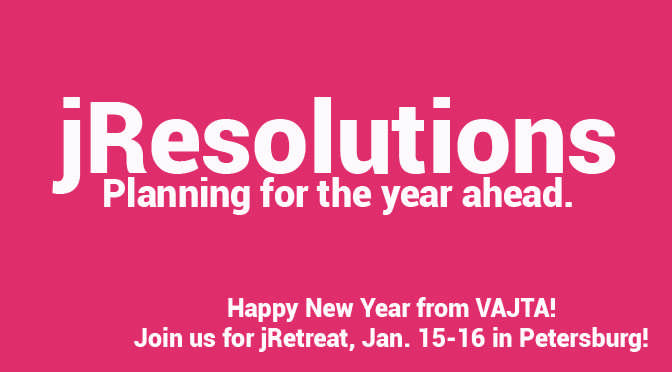 Have You Made Your jResolutions Yet? It's Never Too Late!
It's the perfect time of year to evaluate your life as a journalism adviser and make some jResolutions that might inspire a happier you in 2016. Here are some challenges for each month.
January: Lose the (dead) weight. As you begin to recruit new staff members for next year and children start signing up for classes, let go of the folks who have had a detrimental impact on your staff. We've all thought we could be that magical teacher who could change a student, but face it, sometimes that's just not the case and the rest of the staff will function much more smoothly if we get rid of some of the negativity. Reclaim your classroom and choose the battles you want to fight.
February: Celebrate Scholastic Journalism Week. Have your students develop an awareness campaign for your school, your admin, your community. Think about the First Amendment and share the importance of it with your audience. Celebrate what you do and where you want to go. Get all your constituents to buy into your goals. Set up appointments to do presentations for your school board, local civic groups like the Rotary Club or Chamber of Commerce, but start in your building. Sponsor a social media competition to bring visitors to your site. Keep the content changing to keep them there! 
March: Organize a jEvent for your local middle schools or elementary schools. There's no better recruitment tool than hosting a journalism event for middle school students or for elementary school students and their parents. Once the kiddos catch the fever, they won't forget it when they get to high school. If you host a Saturday event, train the parents right along with the kids. Parents are always wondering how to better use their DSLR or how to capture super video.
April: Attend jDay or create your own journalism workshop. Students learn more when they attend workshops and conventions and realize they are just as good at the art of journalism as other students in their area/state. jDay in Chantilly allows your kids to learn from some top notch advisers from around the country and to compete against fellow student journalists from Virginia. If you can't afford to get to Chantilly, then host your own workshop and bring local students to your school to hear from local professionals, former students, or your own senior staff members. Use this opportunity to allow your leaders for next year to begin the bonding process.
May: Celebrate your year! Do a huge wrap-up event and celebrate the successes from this school year. Induct new staff members. Send out the old in grand form. Have their parents there. Invite your administrators. Celebrate the smallest of steps and celebrate the largest victories. Let your editors plan the event. Let them speak at it. Make it important.
June: Send your kids to camp! And yourself, for that matter!  Everybody needs a little rejuvenation. When you get new ideas, you get re-energized! jCamp is just the place to do that. Send your kids – better yet, come with them! Use this as an opportunity to develop a terrific adviser/staff relationship.
July: Meet fellow advisers from your area. Reach out to fellow journalism advisers in your local area and get together for cocktails or dinner. Set a goal. How can you help each other in the following year? Simply meet on a regular basis? Plan an event for your collective students? Get together a bus to go to a workshop next year?
August: Hold a retreat for your students. Believe it or not, your kids are invested in your program and they will want to come into school early in order to develop a plan for the year. Make it fun. Spend a couple days in your building growing your team and training the staff members. Keep them moving. Set goals. Know your priorities.
September: Find a sister staff. Choose another staff from somewhere else in the state or country and make them your sister staff for the year. Share your story ideas, your problems,  your successes. Skype with them. Send care packages. Follow each other on social media. Cover the same issues. Make a difference!
October: Host a media day at your school. Thinking about converging your staff? This is a perfect opportunity for all journalists in your school to try a little bit of what everyone else does. Think about how all of you could cover the same story and practice some journalism together! The sky's the limit as you plan this event, but make it fun and bond the kids in your school in the name of good journalism.
November: Take the plunge. If you've never been to a national JEA/NSPA convention, take a leap and go to Indianapolis this month. In my many years of advising, I still maintain there is no greater way to improve your program than to get kids to these national conventions so they can catch the fever. Once they realize what other kids around the country are doing, they will want to change for the better and take your media to the top!
December: Make it happen – Make more money. Not having money is probably the first excuse I hear from advisers or students about why they can't do something. So my challenge: figure out a way to make that extra money and make it happen. frankly, you don't always need money to grow a program and you can find many creative ways to get kids to workshops/conventions. Don't make excuses – MAKE IT HAPPEN.
Jim Jordan posted a link on Facebook to an article from Edutopia that really resonated with me as we begin a new year. Being happy in our world is all about the choices we make. Certainly worth a read! Happy New Year!!!